Steampunk
is a style that has worked it's way into Etsy, runways, and even belly dance. Now it's up to you how far you take it, but I think it's interesting enough to
glean some inspiration
from! Really, if you knew me, you'd know I just wanted some new crafts to make ;)
I'm always looking for inexpensive ways to make crafts, so when I went to visit my parents last, I decided my Dad and I needed to raid his shop. Luckily he was game. I knew he'd have plenty of little treasures I could use, and we found more than I bargained for! From gears to keys to an old pump gauge - I had lots to be inspired by.
If you don't have a garage or shop you can peruse for steampunk goodies, have a look at your local hardware stores bulk section. You'll find lots and be able to purchase exactly the amounts you need and nothing more. Now let's get started!
We're going to make two pieces of jewelry today. The first is a braided hex-nut bracelet. I found this on another blog and thought the idea was simple and brilliant. She goes into a bit more detail with the braiding, so if you need more help definetly take a look at
her tutorial
.
Equipment:
String/cord

Hex-nuts ( I used 16)

Scissors and pliers

Clasps if desired
Step One: Knot your cord and start braiding.
Step Two: When you get about a third of the way into the desired length of your bracelet, incorporate the hex-nuts into the braid one at a time.
Step Three: Keep braiding as normal until the length is complete, then knot and add any clasps etc. Done!
Next we are going to make some "gearrings"! They are so cute and easy to make!
Equipment:
Gears - I actually used serrated lock washers

Earring backs

Cord crimps

Cord

Scissors and pliers
Step One: Make a cow hitch knot on your gears. I chose two gears in varying sizes, you could do more or only one - whatever you prefer. Remember you will have a very different look if your gears are new, mine came with a natural rust effect! ;)
(Here's a quick how-to for a cow hitch knot in case you're not famiilar)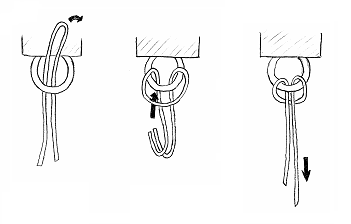 Step Two: Pull the cord tight and cut it short.
Step Three: Attach a cord crimp with pliers and press it firmly so it won't come loose.
Step Four: Attach the earring backs and you're done! Adorable little gearrings!
Hope you've enjoyed these easy steampunk-inspired tutorials! Feel free to tailor the projects to your liking, and link back here to a picture of anything you make!